by Springfield Lewis and Ed Lallo/ Newsroom Ink
Let's face it … Facebook is not the place for the public face of a company's PR strategy. Conversations being held on the many pages of Facebook are fleeting and have no structure. They're open only to those that "like" a page. What's more, they cannot be directed to a higher level and are not tied to the company's business or executive agenda.
The jury is still out on whether Facebook will become an effective, long-term marketing tool, but it has been KO'ed in the early rounds for its effectiveness in public relations. This social media site has already proven to be hindrance, as in the Burson-Marsteller Facebook fiasco.
The dynamic online newsroom is the place to hold an effective conversation with a company's many audiences. It translates the corporate agenda into compelling stories that the media, customers, employees, vendors and stakeholders want to read, learn more about, believe in and contribute – all on a regular basis.
In the world of social media, Twitter has become the headline. Facebook is the front page. Blogs are the editorials. The online newsroom is the entire publication. It becomes a company's content engine – complete with social media – that's archived for history.
What is an Online Newsroom?
It is a new business forum that enables a company's story to be actively told in a journalistic way – from a perspective that only the company can offer.
The newsroom is the place to hold an open, on going conversation. It is the factory that runs a company's content engine aligned to the business agenda.
It's where local, national and international media can obtain credible stories, photos, videos and story ideas around the clock.
Fleeting conversations held on Facebook and Twitter do not allow for continuous conversations held over a period of days, months or even years. The online newsroom is like inviting someone into your business so they can see everything at a glance. At the same time, it puts the CEO or business agenda in the middle of the conversation.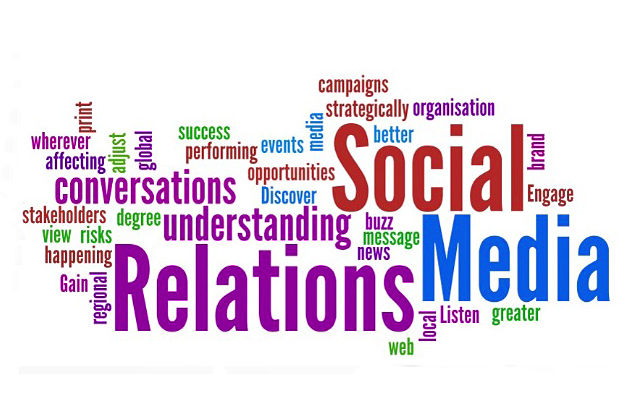 Most important, the online newsroom platform is safe and secure – for readers and company alike. There is no profiling, data-mining, security issues and blocked access – all potential landmines for lawsuits, not only the social media sites but also the companies using them. Recent findings have revealed the pervasive spread of social media within companies, and both the companies and their IT departments have good reason to be worried about potential risks.
A company experiences an average of nine social media incidents a year, such as employees publicly posting confidential information. More than 90 percent of these companies suffer negative consequences that include damage to their reputations, loss of customer trust, data loss and lost revenue.
The 2011 Social Media Protection Flash Poll, commissioned by Symantec Corporation, announced findings, which examined how organizations protect themselves from negative consequences of using social networking sites such as Facebook, Twitter and others.The risk of publishing confidential information increases as organizations increasingly share business related information on social networks to communicate with customers, partners and employees
Who Benefits from the Online Newsroom?
Customers can find the latest company information told in a compelling format.
Employees receive a new source to stay in touch with their company.
Business partners have can learn your story from the company's unique perspective.
Stakeholders receive valuable  information tool to follow their investments.
Industry experts have a platform to voice their visions for the industry.
Company leaders have a respected source to regularly voice their thought leadership.
The online newsroom is the social media site for PR professionals. It allows a company or organization to communicate directly with reporters, influencers and the public. As the company's content engine, it is branded and integrated with the corporate website and social media sites. It can be hosted separately as a standalone media hub.
The format is a proven content management platform. It allows for easy web publishing, media contacts management, news release distribution, statistics, tracking and the latest in new media tools and services.
Why Does A Company Need an Online Newsroom?
It gives a company increased presence through this business-to-business tool.

Provides more "bandwidth" and "Google-ablitiy" to a brand.

Helps shape a company's strategic communications plan.

Serves as a cost-effective marketing tool to build a brand's image.

Aligns a company's business agenda to the editorial calendar.


Interfaces with all social media: Twitter, Facebook, YouTube and LinkedIn.
With cutbacks in staff and resources these days, more media now turn to dynamic online newsrooms to find information and story ideas.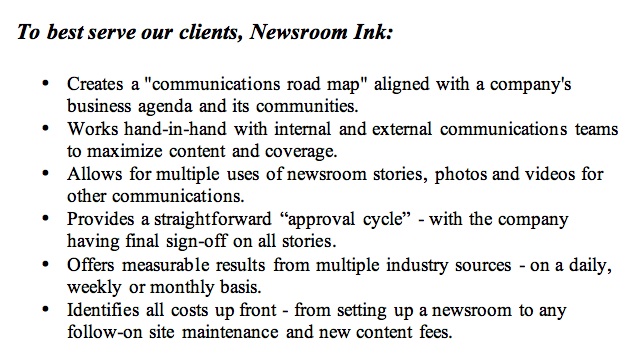 According to a recent study, Journalist Survey on Media Relations Practices Executive Summary, conducted by online public relations site Bulldog Reporter, "public relations practitioners should shift their energies to online newsrooms, blogs and social media," and that "journalists use of these technologies continue to increase."
he beauty of online newsrooms is they offer a forum for others to tell a company's story well, which increases its credibility. This "brand journalism," as it's called, adds new dimensions and distinction. Using a proven model, the company newsroom becomes a powerful business communications tool.
The online newsroom format, pioneered by members of the former The News Group Net and Newsroom Ink, is featured in the Corporate Executive Board's best practices for online newsrooms, as well as in PRSA and IABC publications.
By using a "communications road map" to tie a company's communities with the CEO agenda, the online newsroom is the social media key that unlocks the door to the C-suite.
It is the place to integrate all social media, openly engage diverse audiences, tell a brand's unique stories and bring it all to life with great images – all while producing measurable results that companies require today.