by Newsroom Ink staff
For communicators, a world that's gone digital poses as many problems as it does promise.  For many producing fresh, credible content is at the core of this digital dilemma. It's the job of corporate staffs, PR agencies and journalists alike to feed the beast – and they need help now.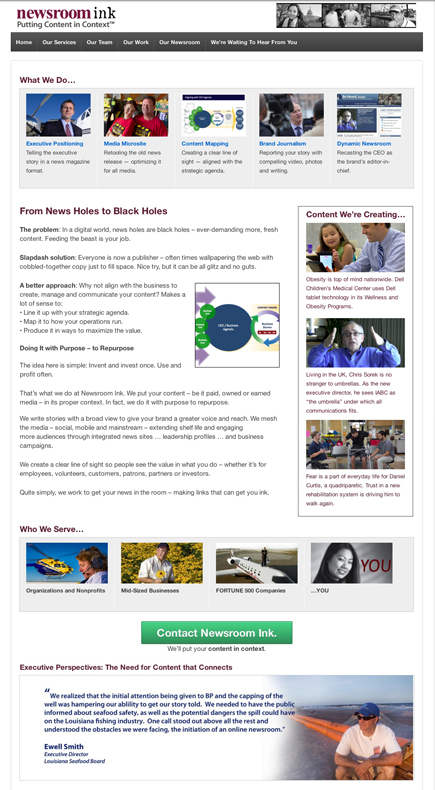 In fact, traditional news holes are black holes today – with never-ending deadlines. Fewer in number, journalists are under pressure to produce more with less. No secrets there. Newspapers, magazines and other media are cutting back newsrooms and ending print media, while expanding online coverage.
Companies continue to cut staff, especially corporate communications and marketing. They issue a mea culpa news release and move on.
The irony here is the business demands even more as dollars are cut, careers sidelined and services curtailed. And come Monday, if you're here … you'll be doing Jane's job, too – at your same pay.
Given these trying times, meaningful stories have to be told. Thoughtful communications still produced. Perhaps, the need to do so – and do it well – is now greater than ever.
Structured Approach
This work, however, cannot be done without being able to create, curate and communicate credible content. It requires a thoughtful, structured approach versus being just slapdash.
"In the rush to communicate, people sometimes substitute speed for substance," says Springfield Lewis, vice president of communications for Newsroom Ink. "They think because it's digital it's done. That's not always the case.
A former news reporter, Lewis also has worked as an executive speechwriter and communications leader for companies such as IBM, EDS and Harris Corporation.
He believes: "Well-told stories about any organization have purpose and structure – from word one. They're framed with content that's aligned with the business agenda."
Putting Content in Context
Newsroom Ink works to put content – be it paid, owned or earned media – in its proper context. This way, Lewis says, you can tell an organization's unique story to its many audiences through strategic storytelling – or brand journalism.
Recently, the agency took a hard look at its own services and website after conferring with potential clients and fellow communicators, as well as chief executives. Ed Lallo, the agency's CEO and founder, learned that Newsroom Ink needed to articulate its own story better.
"Just like the proverbial 'shoemaker's children,' Newsroom Ink was shoeless because the needs of clients came before building out our own website," he says. "So, we redesigned it with an eye toward quickly and simply showing what we do and who we serve."
Newsroom Ink offers five services that unify an organization's internal and external communications with its business. They include: executive positioning, media microsite, content mapping, brand journalism and the dynamic newsroom.

More Than a Bio, Head Shot
For instance, Lallo says corporate bios all too often only offer a one-dimensional view of an executive, with a few paragraphs and a head shot. In truth, that executive is anything but one dimension.
"We take a news magazine approach to tell the executive story," he says. A leader's speeches, articles, interviews and videos are packaged and positioned to show a much more complete, interesting profile.  Such communications offers a comprehensive executive view – instead of it being scattered over the web.
"I like the way the new site looks and works," said Chris Sorek, executive director of the International Association of Business Communicators. "I sat exploring it for 30 minutes."
Lallo, who attended IABC's national conference in Chicago, recalls the take-away message from there:
Companies are now publishers.
The CEO is editor-in-chief.
Organizations must create, manage and communicate content – all the time.
Media Microsite
"Given these changes, a simple press release no longer communicates your story," says Lallo. "We believe a 'media microsite,' which we do, gives a business a better way to position its expertise."
A media microsite incorporates the traditional release along with a version written as a storytelling article. It also gives excerpts and facts – always wanted by websites and blogs.
When combined with storytelling photos and video, the media microsite creates a news store front, where bloggers, reporters and others can see the complete story and select content as they need it.
This is where brand or corporate journalism comes in, delivered on a dynamic newsroom platform.
Dynamic Newsroom Platform
"An online newsroom provides an easy-to-use, flexible system for content creation, discovery, consumption and sharing," explains Newsoom Ink's vice president of technology Tony Cecala, Ph.D.
For example, content creation is facilitated by software that assists in writing, with optimal keywords and key phrases. Cecala says discovery is the search engine optimization (SEO) core of the system.
"Consumption is done by using a responsive theme design. This improves reading and viewing of images and video on desktop, tablet and mobile devices, with a single code base. Sharing content is optimized by automatic notification of posting to social-sharing sites at the time of publication.
All of which brings us back to feeding the beast – with thoughtful, well-structured and easily accessed content. Content that tells your compelling story.
Because if you're not … then your competitor will fill the space – in your place. And which would you – or your boss – rather read?