Tag: business
At the recent IABC World Conference in Chicago, communicators agreed that credible content – aligned with the business agenda – is essential to tell an organization's story well. Lallo and Lewis will talk about the need for communications functions to become content engines that drive business.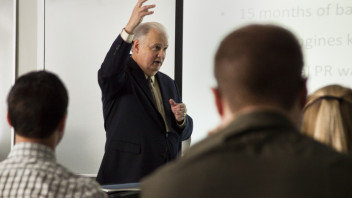 You've probably seen M.C. Escher's drawing, "Metamorphosis." In it, leapin' lizards are transformed from buzzin' bees to fish to birds, then a cityscape – and finally, a chess board. Escher unites seemingly unrelated things into a stunning, symmetrical illustration.
Most organizations have a deeper meaning as to why they exist. This tends to influence strategy, decision-making and behaviors at executive levels, but often isn't well articulated for employees. What you call it doesn't matter, your purpose, your why, your core belief, your center.
According to an article in the Business Day Technology section of the New York Times, a recent study published by Jakob Nielsen, principal in the Nielsen Norman Group, shows people ignore generic online photos.