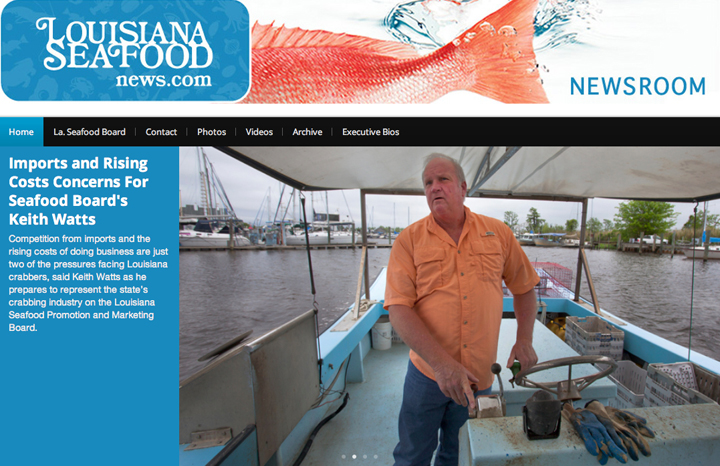 by Springfield Lewis, Newsroom Ink
As an expert in brand journalism, Newsroom Ink believes in giving clients good value for their communications investment. For the Louisiana Seafood Promotion and Marketing Board, the effort also included the effective communications tools needed to secure an additional $50,000 in funding from BP for LouisinaSeafoodNews.com.
Such was the case presented to the Seafood Board, as well as the Louisiana Lt. Governor's office, for the agency's end-of-task order review in the relaunch of the board's newsroom currently funded by a BP Grant. Newsroom Ink produced 10+ months of coverage, three executive bio pages and the board's annual report.
From September 2012 through July this year, Newsroom Ink produced 182 original stories—complemented with 400 photos and about a dozen videos—for Louisiana Seafood News, the online voice for the state's 12,000+ commercial fishermen. In addition, more than 40 stories covering the Louisiana seafood industry were curated from national publications—all this for approximately one percent of the board's fiscal year budget.
During that time, the site had visitors from all 50 states and more than 150 counties, such as Indonesia, the Philippines, Japan and Mexico—all of which compete with Louisiana for seafood sales. Also, the site had 62,000+ unique visits and more than 102,000 pageviews—with an average page view of two-and-a-half minutes, more than three times the average pageview.
The site, which invites media to use its content, experienced "the multiplier effect" with 1,500 pickups from traditional and online news outlets—including the Associated Press, The Times-Picayune of New Orleans and the seafood industry's Perishable News.com.
In addition, Newsroom Ink launched three biography mini-sites highlighting the expertise for the board's leadership team crafted from curated stories from the newsroom.  It also produced the organization's first annual report, the 16-page Currents, which chronicled its work for fiscal 2012.
Ewell Smith, the board's former executive director who managed the $30 million BP dollars given to the organization, said of Newsroom Ink's work: "The newsroom gave the seafood board a voice heard around the world. The staff at Newsroom Ink has been terrific to work with; they 'get it.' They understood how to align content to tell our story while supporting the marketing and promotion efforts of our two advertising agencies. Simply put, they helped us thread that needle, pulling all of our marketing assets together to tell the full story.
"The ROI the newsroom provided was incredibly strong," he went on to explain. "It wasn't just the numbers, however. It was the reach the newsroom had to  strategically targeted audiences—be it the media, Congress, state legislators, social media or the consumers—depending on the nature of the story. BP recently gave an additional grant to the Seafood board with a specific line item to continue to fund the newsroom because of its effectiveness."
---
Newsroom Ink – Louisiana Seafood Board Presentation