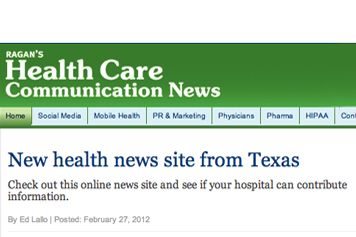 by Newsroom Ink staff
Ragan's Health Care Communication News has featured an article on the startup of Health News Texas authored by Newsroom Ink's founder Ed Lallo.
In the article Lallo describes that his wife Adrienne, the current director of communications for Seton Healthcare Family's, was the driving force behind the concept.
"Adrienne, saw a need for a platform to reposition much of her team's Paid, Earned and Owned Media (POEM) and, at the same time, give a voice to hospitals, health care professionals and health care industry both within and outside of Texas," said Lallo in article.
According to Lallo, Newsroom Ink designed HealthNewsTexas.com to offer a voice to not only hospitals and health care providers, but also to companies of all sizes that offer support to health care providers.  This site will cover political and national issues that affect Texas health care providers and recipients.
Target audiences for the healthcare information included: media, health care professionals, patients, legislative officials, not-for-profits, corporations and of course the general public.
Site traffic on Health News Texas has been remarkably steady and growing daily.
So, what does my wife Adrienne think of the new site that her influence helped launch?
"HealthNewsTexas.com is a great site to scan for information about providers in Texas, particularly those surrounding the state capital. Our team has added the editor to our media list and we think that over time, this can be an important trade outlet for Seton Healthcare Family.