by Ed Lallo/Newsroom Ink
Intel gets it. Three weeks after going live with their dynamic online newsroom, Free Press, the company already realizes the potential and importance of the new "corporate journalism" tool.
A recent Wall Street Journal Digits blog by Don Clark, Intel Establishes Its Own Free Press, led to an in-depth discussion of online newsrooms between Newsroom Ink's founder Ed Lallo and Bill Calder, managing editor of Intel's Free Press.
During their hour long discussion, Calder expressed his vision for Free Press as a 24-hour resource that local, national and international press can access stories, photos, video and story ideas. He hopes to generate articles that have interests for professional media outlets to republish with subject matter related to Intel, or technology in general.
"If the New York Times visits our site looking for a technology story idea and doesn't use our post, but instead uses it as a resource for their own story, that's ok, maybe we influenced them in the process," explains Calder, a former newspaper correspondent for the The (Portland) Oregonian.
Calder praised the groundbreaking work that Lallo, and Newsroom Ink, did with Imperial Sugar's Newsroom and Louisiana Seafood News. "I am really impressed with the layout and content of both sites. I especially like the creative use of video on the sites."
Intel also maintains a dynamic pressroom optimized for social media that posts all the conventional press releases, blogs, tweets, presentations and marketing materials. Free Press is about putting more context behind that news and was developed largely in response to a perception that a diminishing number of news outlets have less time, personnel and space to take on many technology topics in depth.
"We are Intel geeks at heart, taking an editorial approach to producing stories with journalistic style and integrity, and doing it as objectively as possible while being transparent about who we work for," states a mission statement on the site.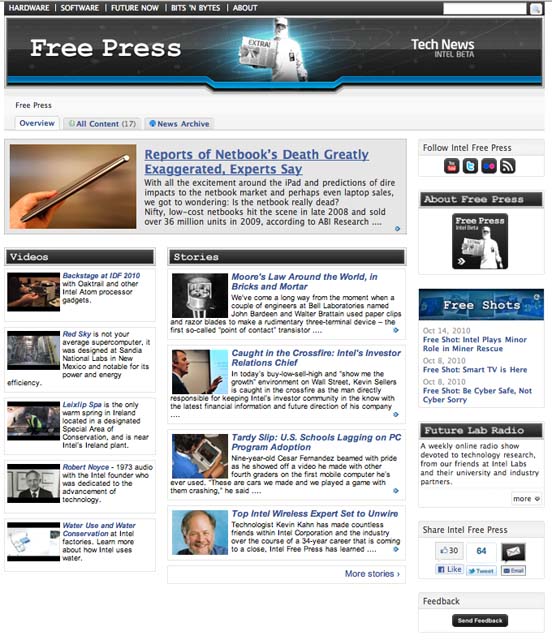 Intel Free Press writers are members of Intel's PR team with previous journalism experience, but Calder says others at Intel may contribute, including other former journalists who have ended up at the company over the years in various departments. Visitors to Free Press are encouraged to freely reuse any of the articles, images or videos posted.
"We are not going to do press release journalism," says Calder. "I like the length of the stories I have seen on Louisiana Seafood News, and we're still looking to keep our own technology articles to a more manageable size."
Calder and Lallo both agree that the key to making the dynamic online newsroom work is using the voice of others to successful tell the company's story.
"The sheer speed, volume and rapid dissemination of information that inundates communications and sways public opinion, and journalists, calls for an outlet that tells the company story from their unique prospective," explains Lallo, "the dynamic newsroom is just such an outlet."
In his interview with the Wall Street Journal, Calder described his vision for the kind of story he would like to see in the Free Press.
When Intel releases its next big chip, family–code-named Sandy Bridge, the kind of story the Free Press would do might be on, say, a plucky female engineer in Israel who faced challenges while dreaming up the graphics circuitry on the product. I want that story," Calder says.
What he does not want is an article whose point is that Intel's clever chip design will transform the world of computing and make consumers all happy. "No, shoot me now," Calder says.