by Ed Lallo/Newsroom Ink
You've probably seen M.C. Escher's drawing, "Metamorphosis." In it, leapin' lizards are transformed from buzzin' bees to fish to birds, then a cityscape – and finally, a chess board.  Escher unites seemingly unrelated things into a stunning, symmetrical illustration. He connects the dots – fish and fowl … brick and mortar … pawn and Queen – in ways we never imagined.
Springfield Lewis, Newsroom Ink's vice president of strategic communications, often refers to Escher's work in describing how a dynamic newsroom can connect and channel diverse content in new, interactive ways.
First, it begins with a CEO-driven storyline that visually aligns different elements of a company's work into a logical, business narrative.
Second, an editorial content engine systematically tags and ties everything together – maximizing business communications and optimizing search-engine results.
Utlimately, most organizations have better stories to tell than they're telling. A dynamic newsroom gives them a digital forum to see what's gone unseen and tell their stories well – every day to key stakeholders.
At the recent Texas Public Relation Association's (TPRA) Digital Media Summit, Lewis and Newsroom Ink's Ed Lallo, discussed how online newsrooms can capitalize on different communications – such as paid, owned and earned media (POEM) – and generate greater news value for companies and nonprofits alike.
Competitive issues – from customer demands to global economics – pressure every business operation. By being integrated with the CEO or corporate agenda, these outside influences can be used to create thought leadership pieces and engaging stories for dynamic online newsrooms.
Stories told on this digital platform go far beyond a traditional static newsroom, populated with marketing copy and staid news releases. Instead, this news site becomes a business tool to optimize an organization's desired state so it's repeatedly picked up by search engines.
Professional brand journalists actively tell a brand's story on this new business tool. It is the one place that 24-hours a day local, national and international press can obtain stories, photos and videos, all told from the company's unique perspective.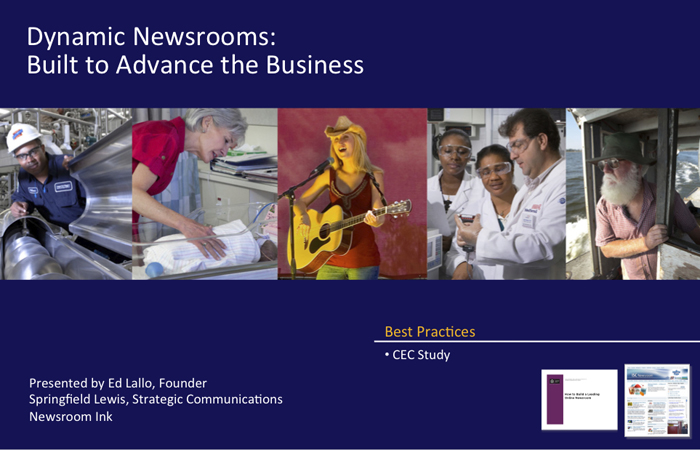 "Think of it as a communications triangle," explained Lallo, "that merges journalism, corporate communications and interactive technology to amplify a brand so it's seen and heard by many more audiences."
It's a new business forum where a company's story is professionally told by brand journalists. It's where local, national and global media can obtain well-written pieces, high-quality photos and videos all told from an organization's unique perspective.
Core to the newsroom is a communications plan/calendar mapped to its various businesses. It brings together a unified, editorial view of the "bigger picture."  Stories are embedded with key messaging, and together, create a clear line of sight – symmetrically driving all content toward year-end corporate goals.
"The newsroom accesses a wide variety of channels," said Lewis,"traditional, digital, mobile and social media. Stories are written to engage employees, executives, customers, business partners and industry analysts – as well as community and civic leaders."
Now, fresh content is the single greatest challenge faced in keeping any newsroom updated – whether original or repurposed. Most PR agencies and communications departments have neither the time nor resources to repackage the vast content generated by their paid, earned and owned media. As a result, communicators often are stymied in combining all forms of media under a single umbrella. It is a measurable tool that  breaks down old silos and creates a new solar system of ownership and effective storytelling.
A newsroom's shared view enables an organization to build a well-framed "content house" for its communications, instead of producing only "toothpicks of information" scattered randomly around the company.
The Online Newsroom: Maximizing Business Content
Driven by a "content engine" tied to the CEO/company agenda.


    • Gives all content reason/alignment with where the business is going.

Creates sustainable business communications platform/recognized news source.


    • Engages employees, customers, legislators, suppliers, media, industry experts and civic leaders.

Gives business a more prominent voice in its industry and markets.


     • Promotes thought leadership/expertise and customer viewpoints on issues/trends.

Built around an editorial calendar that creates a clear line of sight into the business.


     • Shows logic behind stories to systemically strengthen reputation and build brand.

Presents SEO-tagged news items as part of bigger, integrated "business storybooks."


     • Stories interconnect and build on each other.

Makes social media more meaningful and immediate.


     • Stories packaged/timed to post to Facebook, Twitter, LinkedIn and RSS feeds.

Creates searchable platform for photos and videos.


     • Overcomes difficult-to-search sites such as Flickr and YouTube.

Turns dated media releases into "evergreen" stories – giving them "legs."


     • Reaches broader audiences and extends content shelf life.

Creates storylines that act as news magnets to draw out/repurpose content.


     • Timeless, but "forgotten" articles, photos and videos find new life in other communications – 




        such as annual reports or industry campaigns.

 Builds measurement from the start: Google Analytics, Alexa, Quantcast and others


     • Delivers information as needed/tracked to industry standards.

Overall, an online newsroom delivers greater ROI by:


     • Hardwiring content to a CEO/company agenda.




     • Capitalizing on compelling, credible content.




     • Measuring its business impact and value.