by Newsroom Ink staff
In a challenging economy "communication ills" seem to be growing daily, successful communicators rise to the challenge to create solutions to ease the pain. IABC Dallas, has announced that Newsroom Ink's Ed Lallo received an Award of Merit for the successful establishment of LouisianaSeafoodNews.com as a crisis communications tool during the BP disaster in the Gulf of Mexico.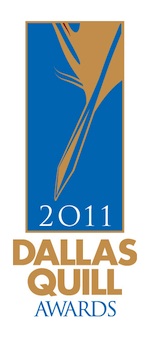 "I am proud of the work The News Group Net, now Newsroom Ink, did in establishing a voice for the Louisiana Seafood Board and the seafood industry at a time all attention was focused on the tragedy taking place offshore," said Lallo. "This is the second time an IABC chapter has chosen to recognize the importance of the dynamic online newsroom as a new, effective crisis communications tool – IABC Houston awarded a Bronze Quill and Award of Merit in Crisis Communications for the establishment of the Imperial Sugar Newsroom."
In December of 2010 Lallo founded Newsroom Ink. A communications and reputation management agency, Newsroom Ink is the leader in establishing a competitive difference for clients through brand journalism to create credible, influential news – telling a company's stories on a dynamic newsroom platform.