by Newsroom Ink Staff
In a recent study of online newsrooms by the Corporate Executive Board's Communications Executive Council, a poll of their members showed online newsrooms to be the top channel for disseminating company news stories.
The Washington, DC based Corporate Executive Board's mission is to drive faster, more effective decision-making amongst the world's leading executives and business professionals. It is comprised of a member network that spans over 50 countries and represents more than 85% of Fortune 500 companies.
While compiling information for the online newsroom study, the Council interviewed Ed Lallo of The News Group Net, now Newsroom Ink, on the techniques and best practices used in implementing the Imperial Sugar Newsroom.
The Imperial Sugar Newsroom was a "proof of concept" for a dynamic online newsroom," said Lallo. "It was the first newsroom to be staffed and ran by professional journalists. The open and transparent company stories were from an unique perspective; told by employees, community leaders, industry experts, customers and vendors."
"A static newsroom filled with page after page of press releases is an ineffective communication tool," Lallo goes on to explain. "The interactive and dynamic online newsroom translates a corporate agenda into a compelling story that the press, customers, employees, vendors and stakeholders want to read, learn more about, believe in and contribute too on a regular basis."
In the final best practices report, the Corporate Executive Board lauded the Imperial Sugar Newsroom as the leader in integrating "a content and look-and-feel that satisfied not only journalists, but other stakeholder audiences."
The Imperial Sugar Newsroom was featured along side some very prominent companies that included: Corning, Intel, Toyota, Microsoft, Cisco and Ford Motor Company.  Imperial's newsroom stood alone, however, as being the only one staffed by independent journalists.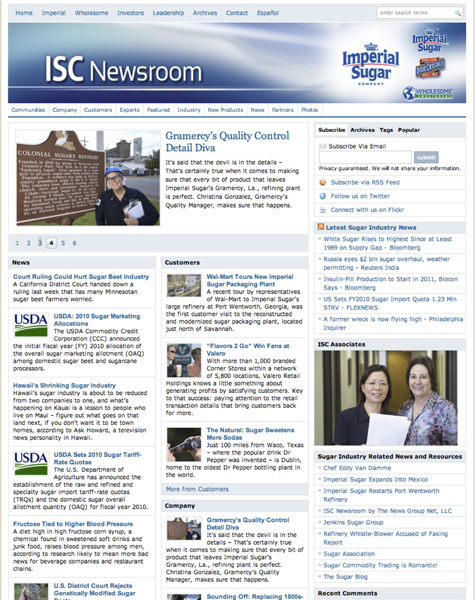 As more and more media turn to online newsrooms as a source of information about companies and their brands, corporate journalism is playing an ever-increasing role in the importance of communicating the CEO's agenda. Currently most companies and organizations are unsatisfied with their current newsroom.An online newsroom becomes the place customers regularly find the latest information about a company and it's brand; employees receive a source of information they might not already experience; business partners have an opportunity to learn a company's story from a new prospective; shareholders receive an information tool on their investment; industry experts have a platform to voice their visions and company executives have a tool to voice their thought leadership.
According to Lallo, "An effective online newsroom staffed by professional journalists becomes the factory that runs a company's content engine. It is like inviting someone into your house so they can see everything at a glance."